The Sims 4 Outdoor Enthusiast Aspiration
Milestones and The Survivalist Reward Trait
by Tom "Metro" Schlueter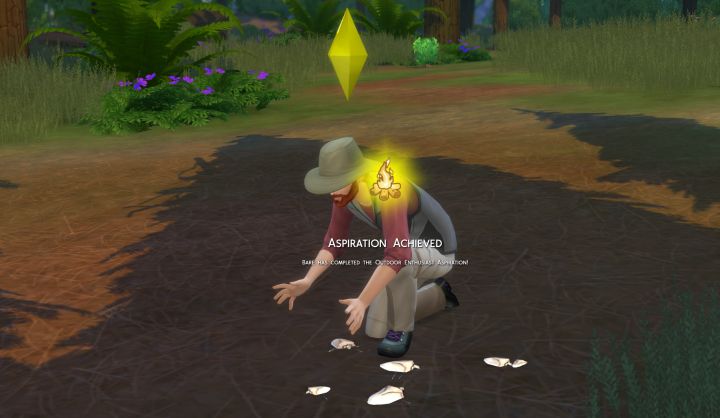 You need to collect 15 insects for the final Milestone, but thankfully each attempt has the potential to net you more than 1 insect.
Overview and Sim Set Up
The Outdoor Enthusiast Aspiration is the single new Aspiration that comes with the Outdoor Retreat Gamepack. It's a nice Aspiration with components all over the place - you have fishing, you have leveling up Herbalism, you have to find and meet the Granite Falls Hermit, collect insects, collect plants, etc. So, you really get a full taste of what this new content is all about - enjoying the great outdoors.
I think good traits for this Aspiration are: Genius (to get Focused more frequently which will level Herbalism a bit faster), Geek (to aid your Sim in finding more rare collectibles), and Loves the Outdoors (no explanation necessary hehe). The bonus trait of Collector from the new Nature category Aspiration is also nice given your Sim will be spending a lot of time looking for things.
Milestone I: Greenhorn

Harvest 10 Unidentified Plants (50)
Catch 5 Fish in Granite Falls (100)
After spending 4-5 days in the campground and then following Carl's excellent Guide on finding the Hermit, it hit me - just find the Hermit immediately upon arriving for your vacation. Everything you need to finish most of this Aspiration is right there at the Hermit's House - you have insects, fishing, cooking facilities, a bed, shower, and of course the Hermit, so she'll be able to fill the social meter. I even opted for my Sim to become romantically involved with her (the Hermit also has a chance to be a male) - hey, it's the Sims - anything goes! Just book a vacation on the phone at the very cheapest neighborhood (the Campground) and then travel to the National Forest (press M) and follow Carl's instructions on finding the Hermit. Stay there for a few days to make good progress on the first three Milestones.

I now have over 70 videos on The Sims 4. Click here to check out my channel!

Our Latest: Realm of Magic Game Pack Guide NEW Realm of Magic Features Video New 10 Mods that Improve the Game New The Sims 4 Moschino Stuff Pack Review New Moschino Stuff Announced - See my Video for Trailer Graphics Options Guide (Video) My Sims Never Die. I Fixed That (How-To) Sulani Mana Let's Play Building Cheats Video
Milestone II: Forest Scout

Achieve Level 4 Herbalism (250)
Cook 2 Plates of Beetles over a Campfire (300)
Eat 10 Plants (200)
An easy Milestone to complete - you just need to have the necessary ingredients in inventory to level up Herbalism as well as the 10 plants needed to eat. With the beetles component you need to have them in your Sim's inventory. Just light a campfire, and select the Roast option. Eating 10 plants can be done in one shot assuming you have enough in inventory.
Milestone III: Wilderness Explorer

Craft 3 Excellent Herbal Remedies (400)
Identify All Unidentified Plants (500)
Befriend the Hermit of Granite Falls (250)
Try and be in a decent emotional state when working on Herbalism and your chance of making an Excellent Remedy should go up - so, be Focused, Inspired, Happy, etc. Don't make remedies when you're Tense or Sad. Identifying all Unidentified Plants will take some time, but spend a few days with the Hermit and identify all the plants in his/her surrounding area. And speaking of the Hermit, befriending this Sim is not too difficult. Just take it slow and use a lot of Friendly socials. If your Sim has the Loves Outdoor Trait, then you can often use the "Enthuse about the Outdoors" social and get positive results since the Hermit shares that trait as well.
Milestone IV: Outdoor Enthusiast

Achieve level 10 Herbalism Skill (750)
Sleep for 5 Nights in a Tent (1000)
Collect 15 Insects (1000)
Sleeping for 5 nights in a tent is obviously a no brainer, but will take some time. Capping the Herbalism skill is just a question of grinding that out and making sure you have the materials in inventory to do so - it comes down to collecting lots of wild plants and insects every day. I highly recommend you take a look at Carl's Guide on Insects. It gives you tips on not only what parts of Granite Falls to look for each of the types of insects, but also what time of day those inspects spawn.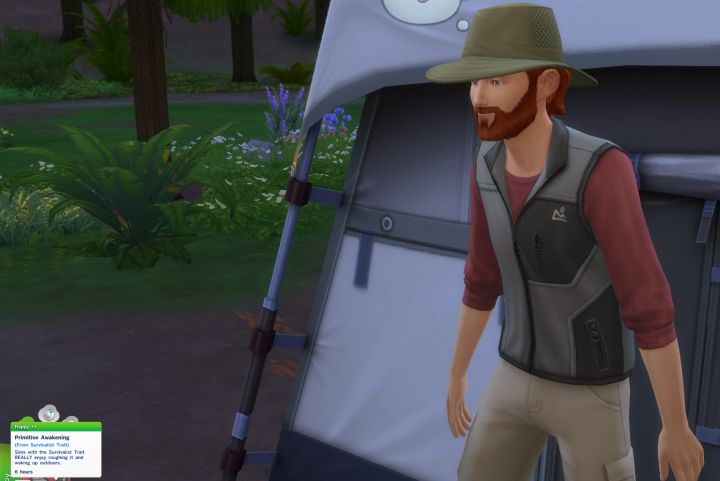 Waking up after sleeping in a tent grants a 6 hour +1 to Happy buff for Survivalists.
Survivalist Reward Trait
After you complete the Outdoor Enthusiast Aspiration you will be rewarded with the Survivalist Reward Trait. The description is a little cryptic...Survivalists are most comfortable using camping equipment and living off the land. That tells me that the fun meter might actually get a slight boost while sleeping in a tent, etc. So, I did some testing and noticed the Primitive Awakening buff (+1 to Happy for a full 6 hours) when my Sim crawled out of the tent. The 6 hour duration is really nice, but unfortunately that seems to be it. I could not find any other benefit such as a buff from using the campfire aside from getting the standard Cozy one. If you discover other buffs from the Survivalist Reward Trait please let us know.
How You Can Support The Site and Channel

If you like my sites and
Youtube Channel
, consider supporting me on
Patreon
to help me to continue. If you'd like to support my guides in another way you can use our
Amazon link
for your next purchase (if in the US). We also offer a
paypal donate link
so you can contribute directly.
Back to The Top
Quick Links
Check Out My Youtube Channel!
We now have a Youtube Channel with over 50 guides in video format to go along with the huge site I've already created. Check it out and consider subscribing if you like my style.
Share Tips and FAQs
(10)
Our Sims 4 Community is the place to go for faster answers to questions and discussions about the game. Use the form below to share your own experiences and provide helpful tips to other readers. We are not affiliated with EA and cannot make changes to the game, nor fix bugs.
Support The Site via Amazon
SimsFan
I wish I owned OR, how much does it cost?
8th October 2015 7:58pm
Simmer24601
I'm pretty sure it costs $20, but you can always check in your game by clicking on the 'DLC' button

4th June 2016 11:49am
SwimsFan
This -> "With the beetles component you actually do not have to have them in inventory." is inaccurate. When I click Roast both beetles and fish are greyed out for me until I have the ingredient in my inventory.

10th January 2016 6:16pm
Playalot
Very true! You absolutely need the items in your sims inventory now. I'll let Carl know this needs updating. Thank you for pointing this out!

11th January 2016 3:33pm
Jenna
For the 'sleep 5 nights in a tent', does it have to be in granite falls?
30th April 2018 10:26pm
Playlot
No, I never do this part of the aspiration in Granite Falls, it's much easier to do on your sims home lot imo, but as long as your sim is sleeping until entirely refreshed/energy filled and without being woken by you, any lot will register towards the aspiration requirement. From memory your sim needs to sleep at least 6 hours undisturbed to count.
1st May 2018 10:58pm
Erin Siikavaara
What season should you visit. I was there in the fall and the wild plants weren't sprouting. :(
14th July 2018 8:29pm
Playlot
Spring and summer, you'll have to visit in each of those seasons to get all the plants.
Plant List Guide
Scroll down the page I've linked you to to find the plant list guide for info on what seasons plants grow in. Some plants do grow in Fall but you'll find them all in summer/spring.
16th July 2018 8:58pm
Tabatha Morgan
OK I've run into an issue. I went in Spring and all the plants spawned and I was able to pick them but 6 of the 10 were already Identified. I visited the hidden area and when I went back to the camp site all the plants were down to dirt piles. How do I finish identifying if 6 of the 10 were already done when i picked them?
12th October 2018 12:02am
Playlot
You'll have to cheat through this part of the aspiration. I had this occur too and other than getting your sim to eat them in the hope they will register there is nothing else you can do for this bug.
aspirations.complete_current_milestone
Guide to Cheats
14th October 2018 4:05am
Join in: