The Sims 4 Musical Genius Aspiration
Milestones and The Piper Reward Trait
by Tom "Metro" Schlueter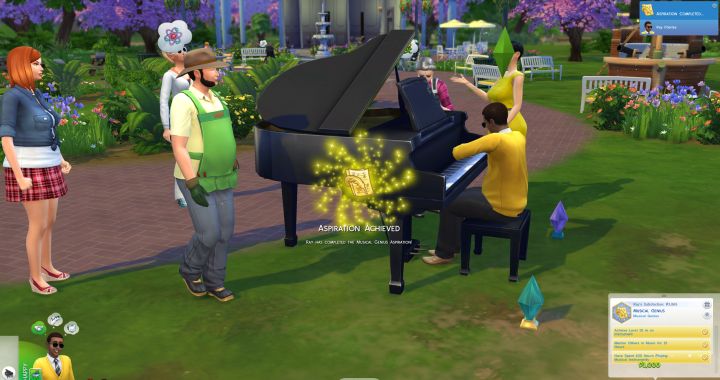 The Base Game has no portable Piano, so I put one in the Park to make Tips
Overview and Set Up
I gave my Sim the following traits while pursuing the Musical Genius Aspiration: Creative (to regularly get Inspired for faster Piano skill gain), Art Lover, and Music Lover.
Milestone I - Tone Deaf

Practice Music for 6 Hours (75 Satisfaction)
Listen to Music for 2 Hours (50 Satisfaction)
You'll likely be done with the first Milestone by one day 1. As always, try and fulfill lots of Whims early on to rack up Satisfaction so you can buy rewards down the road to make completing the last Milestones a bit easier.
Milestone II - Fine Tuned

Achieve Level 4 Skill in an Instrument (300 Satisfaction)
Play an Instrument for 1 Hour while Inspired (350 Satisfaction)
Another simple Milestone you will probably hit on day 2 or day 3. Taking a Thoughtful Shower right before playing an instrument is an easy way to get Inspired.
Stage III - Harmonius

Achieve level 6 Skill in an Instrument (500 Satisfaction)
Write 4 Songs (400 Satifaction)
Earn $500 from Licensed Songs (500 Satisfaction)
This Milestone will probably take longer than Milestone IV because writing songs takes the better part of a full day for each one (around 8 hours). Plus, you cannot license songs until level 9 of an instrument. Getting $500 from licensing may take a few days because your royalties come in a range - anywhere from around $100 up to about $500.

10 Million Views! My YouTube channel has grown a lot the last 6 months. I now have over 125 videos on Youtube and am nearing 100k subscribers. I'd like to invite people to check out my content and, if you like what I'm doing, subscribe!
At this point, assuming you have been diligent in fulfilling lots of Whims, you'll probably have enough Satisfaction to purchase both the daytime and nighttime skilling boost rewards to help you get the last couple levels.
Stage IV - Musical Genius

Reach level 10 Skill in an Instrument (1000 Satisfaction)
Have spent 75 Hours Playing Musical Instruments (1000 Satisfaction)
Mentor others in music for 3 hours (750 Satisfaction)
I ended up capping the Piano skill before I finished Milestone III. With the Mentoring component you'll have quick success just taking control of another Sim in the household and having them Practice with an instrument. Switch back to your musician, click your target and choose Mentor. Going to the nightclub and waiting for another Sim to sit down at the piano - well, all I can say is good luck with that. I actually moved in my Sim's Romantic Interest just to finish up this portion of the final Milestone. Get your target Sim's needs high if they are under your control so you can have a nice long Mentoring session.
The Piper Reward Trait
Once you finish the Aspiration if your musician clicks on their instrument they'll have a new interaction granted from the reward trait - Piper. There are 4 different songs available: Carol of Cleaning (make Sims Clean), Ditty of Drowsiness (Sleep), Etude of Egress (Make Sims Leave), and Song of Sophistication (Change to Formalwear). By playing one of these songs your musician can influence the behavior of another nearby Sim. Not all of them work 100% of the time.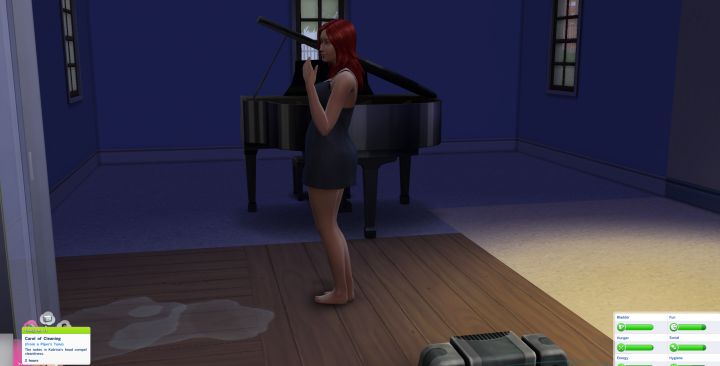 Carol of Cleanliness. Alas, the puddle from a broken shower was never mopped up.
How You Can Support The Site and Channel

If you like my sites and
Youtube Channel
, consider supporting me on
Patreon
to help me to continue. If you'd like to support my guides in another way you can use our
Amazon link
for your next purchase (if in the US). We also offer a
paypal donate link
so you can contribute directly.
Back to The Top
Check Out My Youtube Channel!
We now have a Youtube Channel with over 50 guides in video format to go along with the huge site I've already created. Check it out and consider subscribing if you like my style.
Comments (12)
Topic:
http://carls-sims-4-guide.com/aspirations/musicalgenius.php
Regular
Nick
When I first tried the piper songs I noticed my sims acting weird.

Lol Didn't know these piper songs could influence them. Now when it's bed time for all of my sims, I just play the Ditty of Drowsiness to make them all sleep.

However I noticed the songs are based on real ones. Ditty of Drowsiness is based on Twinkle Twinkle Little Star. Song of Sophistication sounds very familiar too.
Does anyone know what songs they're based on? Thanks!
New
Kev
That one is Scotland The Brave.
New
Lal-Soukyan
Mentor others in music for 3 hours (750 Satisfaction)I have found the easiest way to finish the Mentor part of this Aspiration is to form a club of music lovers. I made the club hangout my house and had lots of instruments available. It was actually easy to Mentor them because they played instruments a lot and our club earned a lot of club points since playing instruments was a Club activity. It really almost felt like cheating.
Senior
Playalot
Yes since the introduction of Clubs in the expansion Get Together this last requirement is basically no challenge at all.
Senior
Playalot
With expansion packs this part of the aspiration is fairly simple to complete now. It was quite the struggle with just the Base Game and only one controlled sim.

When you invite sims to vacay with you they remain uncontrolled by you if they were not already in your household through.
New
Trey Hicks
Hi, so I don't really know what's happening... My dog died in-game so I thought, hey what if I had my sim play the Etude of Egress while the Reaper is here, what would happen? Well, a lot happens. All of the sims go into mourning as if the pet did die, the pet is unplayable and Grimm just up and left, just like that. No clue what to do now bc I'd rather not have a dead dog on my patio for the rest of this cycle.
Admin
Playlot
So did Grim not reap the dog? if that's the case I'd save and quit, then delete the localthumbcache.package file form your The Sims 4 folder and then restart your game. If it is still glitched then I would suggest rolling back to a previous save.
How-To Go back to a Previous Save
Senior
Brian
Just a little clarification, because this drove me nuts until just last night. "Write Song" finally becomes an option when you reach level 8 on an instrument. The goal of level 6 is just to gain some satisfaction points sooner, I guess. And once you start writing a song, you pick it up again later by finding the "sheet music" in your inventory. I wondered why I seemed to be starting from scratch every time...
Senior
Brian
Piper is proving to be pretty useful in Get Famous. My musician got to 5 stars in no time, and also ended up with Paparazzi Darling. So, say I'm trying to work on my fishing aspiration, when a mob builds up I can make them sleepy and drive them away!
Regular
Sketch Elder
I completed the mentoring by placing the guitar outside my Sim's front door and clicking on it to hire a guitarist. I locked the door so there would be nothing else for the other Sim to do. I had to introduce my Sim before I could mentor but it didn't take too long (about 8 hours). I did have to hire a second Entertainer and introduce my Sim again after the first one left. This is a fairly easy way to get past this requirement if you don't have another Sim in the household and don't want to add one.
New
Dabbles
It might be worth noting that you need to be level 8 in an instrument to write a song. I was working on the "Stage III - Harmonius" & couldn't understand why I couldn't write a song.
Honestly, this milestone confuses me since it wants you to be level 6 in an instrument but to do a task that requires level 8
Admin
Playalot
Good thought, thanks!

New
Elbbirt
Also thanks for mentioning that level 8 instrument skill is needed to write a song. I'm pleased I read this guide (and saw that comment) before going and buying a computer to see if that did it for me.
Admin
Playalot
It means getting your sim to mentor 3 sims in an instrument. You don't need a reward trait for that, just Level 10 in a musical instrument. If you have Get Together by using the club system this is very easy to do. If you want to make it a bit harder than try placing down a musical instrument in a park or some other venue and wait for NPC sims to start playing.
New
MJJB99
For the mentoring, I just went to The Blue Velvet and hired a pianist. When he started playing, the mentor option came up. It took a little longer because he kept stopping to talk but I got it done in one day. Might be a better option for those who don't want to mess with their households.
Admin
Playalot
DJ booth is a little different as mix tapes unlock at level 5 (I think), all other instruments you can write songs at Level 8 and send them away to be Licensed (mail box interaction) at level 9.
New
Maxi
This reward trait is super cool! Had no idea that was a thing!
Are you sure you want to report it?
Share a link to this comment
Best Mods in Sims 4
I've created a massive List of The Best Mods in The Sims 4 that should be very helpful to new players and those who have not yet explored modding and how much it can do for your gameplay.
Secrets and Other New Stuff
Sims 4 Aspirations & Reward Traits
Support Us

Readers who use adblock or those who'd like to thank me for my efforts can now pledge $1/$5 monthly via Patreon. This helps a lot with server costs and provides some stability for my business.
Super Sim Checklist + Other News
Let's Play Playlist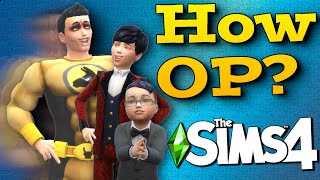 New I now have a guide to Making Super Sims in The Sims 4. Look for a text version within the next 72h. It won't have THAT much more info but it will help out as a checklist.
This was inspired by a series, "Let's Play a Super Sim" in which I start at toddler and gradually take on the major bonuses. Here's a link to each part for people who are interested. You can also see the Let's Play as a Playlist on Youtube.
Discover University Expansion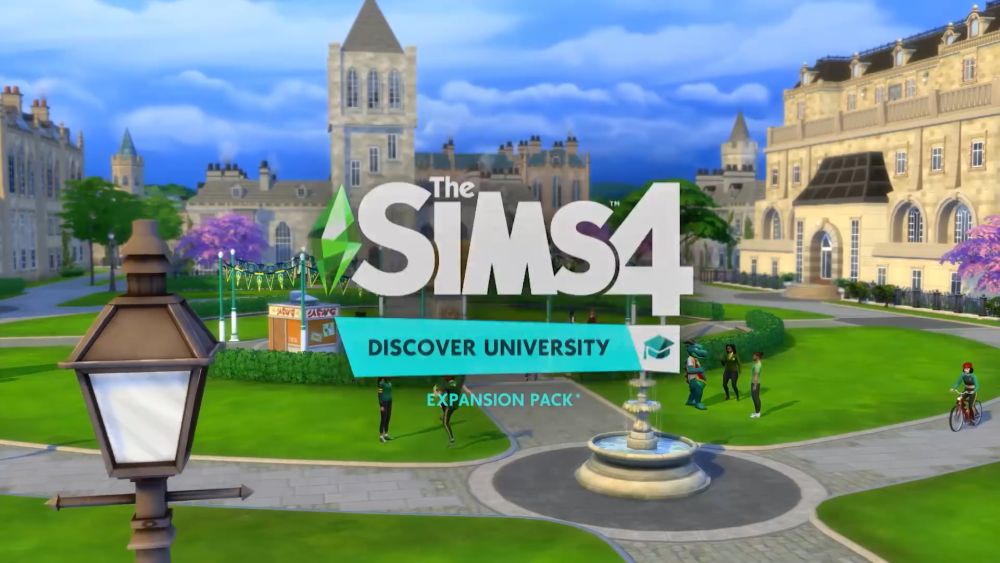 The Sims 4 Discover University has been announced for November 15 for PC/Mac and December 17 for Xbox and Playstation 4 consoles. Click to learn more about the pack, see my summary of the livestream or read our FAQs below.
Other Guides to Discover University:
New Lot Traits: Study Spot and University Student Hang Out
New: Discover University FAQ: Gameplay Features
New Video The Sims 4 Discover University Gameplay Tips Video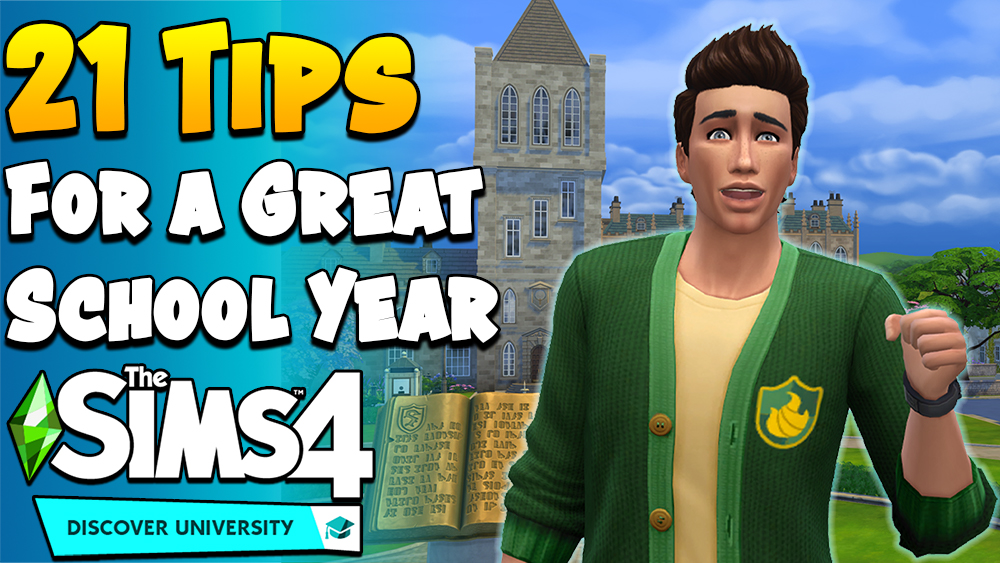 More videos coming soon!
Realm of Magic