The Sims 4 Painter Extraordinaire Aspiration
Milestones and The Expressionistic Reward Trait
by Tom "Metro" Schlueter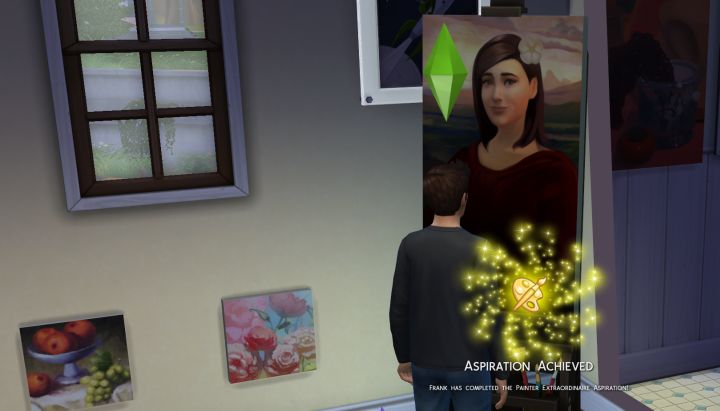 Completing the Aspiration Awards the Expressionistic Trait
Overview and Set Up
This is a very straightforward Aspiration involving painting, painting, and more painting. The Painter career is not specifically required with this Aspiration, but because of the benefit of selling to the Art Gallery and the two Easels (which raise painting quality) unlocked at different points in the career it just makes sense. Plus, after you cap the career you're only going in two days a week, so it's not a huge time commitment.
I named my Sim Frank Frazetta, one of my favorite artists, and gave him straightforward and obvious traits: Creative, Art Lover, and Perfectionist. Creative Sims tend to be Inspired which is the emotional state you want to be in for the best painting skill gain, but even better - it makes Painting fun for Sims. Perfectionists take a bit longer to make stuff, but have a higher chance of better quality items which is important in the last two components of the Aspiration.
Stage I - Ill at Easel

Start 3 paintings while Inspired (75 Satisfaction)
Paint for 5 hours (75 Satisfaction).
This is a very simple Aspiration stage to complete and Frank knocked it out by the end of the first day. Thoughtful Showers as well as having the Shine On Ambitions Award and the Enchanted Aurora Supernatural Award (both providing Inspiring Decor: 4) enabled and near his easel kept Frank Inspired. If you lack these Reward lamps, know you can easily get Inspired by taking a Thoughtful Shower, Admiring Art with Art Lover, and with Outdoor Retreat, by Cloud/Stargazing.
Stage II - Fine Artist

Reach level 4 Painting skill (300 Satisfaction).
Sell 3 paintings to Collectors or Art Gallery (250 Satisfaction).
Complete 3 emotional paintings (200 Satisfaction).

Our Latest: Island Living Expansion Pack Announced Video Summary of Island Living Features History of Sims 4 Game Improvements (Video) Beginner's Guide to The Sims 4 (Video) Woodworking (Handiness Ability) Getting Abducted
Taking different kinds of showers and watching various TV shows is a simple solution to get your Sim in different emotional states for that portion of the Aspiration. Frank finished the Fine Artist component late Friday and then had the 2k Satisfaction to get the Creative Visionary reward - most definitely the first reward any painter should get.
Stage III - Brushing with Greatness

Achieve Level 6 Painting Skill (500 Satisfaction)
View or Admire 3 Paintings at a Museum (350 Satifaction)
Complete 10 Excellent Paintings (500 Satisfaction)
The level 4 Painting career reward easel, making your Sim Inspired, being a Perfectionist, and the Creative Visionary Store reward all work together to help make your final paintings better quality. Masterpieces are a little more challenging to obtain, but nearly every single painting you do should be "Excellent" if you have all your ducks in a row.
Stage IV - Painter Extraordinaire

Achieve level 10 Painting skill (1500 Satisfaction)
Complete 5 masterpieces (1250 Satisfaction)
You do not have as much time to paint if you are tied up for hours in the Painter career, but the two big job perks - the level 8 Easel and the ability to sell to the Art Gallery for extra money - makes the career totally worth it. Obtaining the 5 Masterpieces for the final Milestone will come more quickly with that good Career easel.
Expressionistic Reward Trait
The Expressionistic Reward Trait is the bonus for completing this Aspiration. It allows your Sim to Paint, Write, and use Handiness' Woodcutting abilities to create Emotional Art without being in the proper Emotional State. This can help you to earn money while also improving the variety of works you can produce without needing to be Sad, Angry, or Flirty.
Quick Links
Check Out My Youtube Channel!
We now have a Youtube Channel with over 50 guides in video format to go along with the huge site I've already created. Check it out and consider subscribing if you like my style.
Share Tips and FAQs
(2)
Our Sims 4 Community is the place to go for faster answers to questions and discussions about the game. Use the form below to share your own experiences and provide helpful tips to other readers. We are not affiliated with EA and cannot make changes to the game, nor fix bugs.
Support The Site via Amazon
Kylynara
Another way to get inspired, right now, is get the lump of clay from buy mode, and select mold clay. You can cancel the action once you have the Moodlet. This works for any age from child up.For inspiring decor, use the computer, socialize menu
Find a pen pal
Check back later for pen pal replies
Write a letter to the place that replied.
After a bit request a postcard from that place.
Get the bulletin board from buy mode (under activities and skills/misc). Put it near where You want to be inspired. When the postcard comes in the mail, drag it from inventory to the bulletin board.
You can do this a lot. I usually find a pen pal again immediately after getting a reply. It's nice in the kitchen for cooking inspiration too.
17th July 2018 10:26am
Kylynara
Forgot to add, the clay can be kept in the bathroom and used while on the toilet for multitasking.
17th July 2018 10:29am
Join in: