The Sims 4 Grilled Cheese
Hidden Aspiration and Melt Master Reward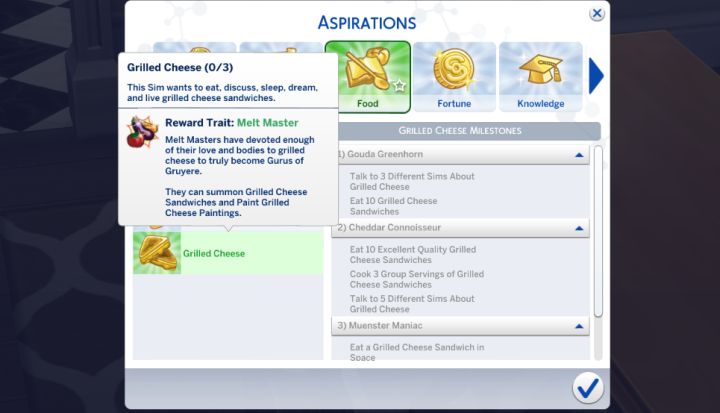 Grilled Cheese is a hidden Aspiration in The Sims 4 Base Game
The Sims 4 features a hidden aspiration: Grilled Cheese. This secret desire to consume and extol the benefits of a healthy cheesy diet can be unlocked by any Sim who is old enough to cook. The aspiration's early stages are not particularly challenging, mostly relying on your Sim to learn to cook a great grilled cheese, go on about the gooey crispy meltiness of them to strangers, and perhaps launch a rocket to eat one in orbit. Later however, things get a bit more challenging as there is a requirement to talk to the grim reaper about grilled cheese. That can be time-consuming unless you murder a Sim. I'll give some tips below to complete this aspiration while detailing its reward trait: Melt Master!
A guide to the Grilled Cheese Aspiration in The Sims 4, including its reward Trait: Melt Master and what it does.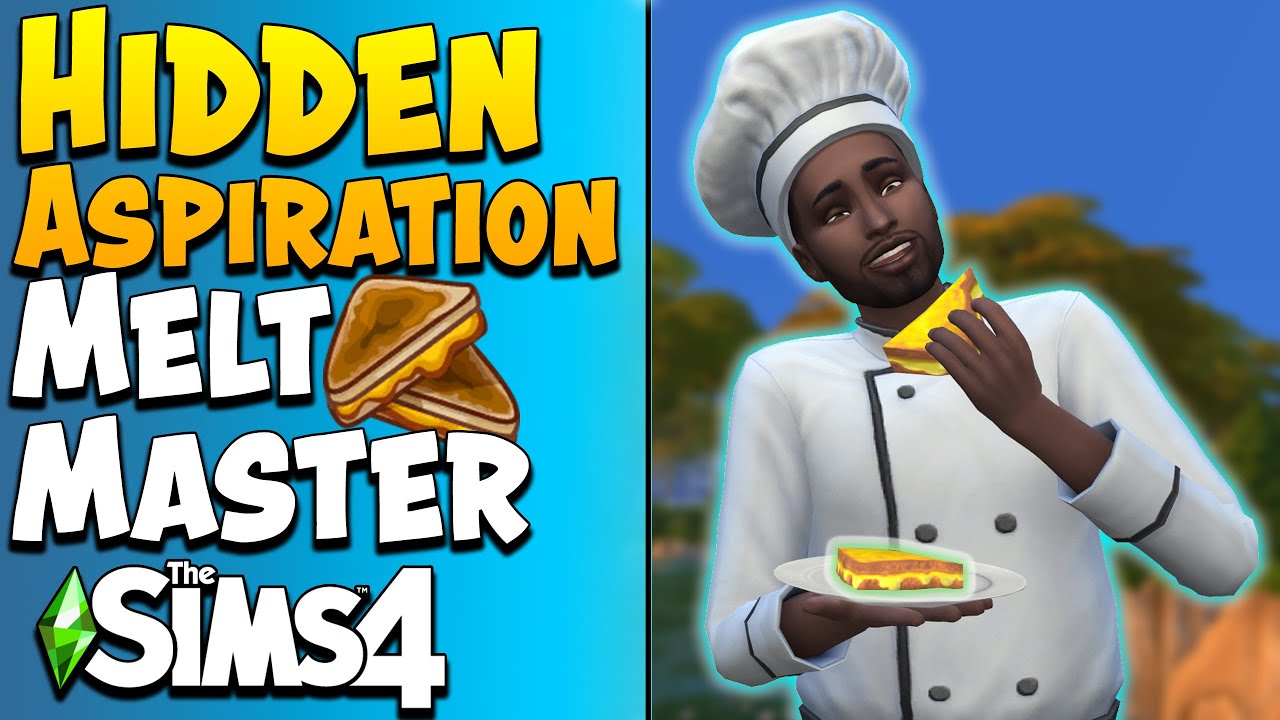 How to Unlock Grilled Cheese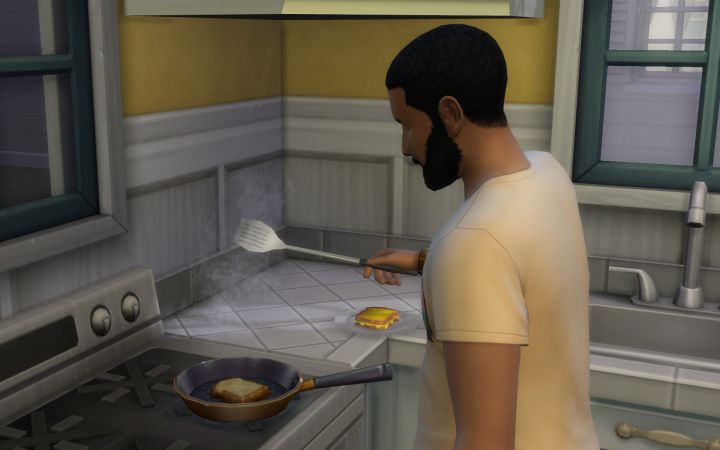 Cook up three plates of grilled cheese to unlock the Grilled Cheese Aspiration.
You can unlock this aspiration by cooking three single-serving dishes of grilled cheese, then eating them all in a row. It's possible group servings work too and may save time, but I didn't test it. Move the plates near your Sim while they are eating the first, which ensures they can eat them faster so no bug gets in your way. You will get a notification in the top-right portion of the screen that the aspiration has been unlocked. Press 'G' or go to the aspirations tab in the bottom-right menu, select the change aspiration button. You'll find the unlocked Grilled Cheese Aspiration under the food category.
Milestone 1: Gouda Greenhorn
Talk to 3 Different Sims About Grilled Cheese (50 Satisfaction Points)
Eat 10 Grilled Cheese Sandwiches (75 Satisfaction Points)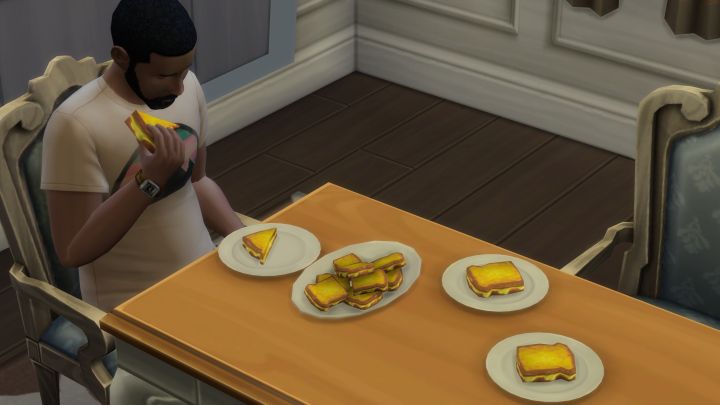 I'm a knock-it-out kind of guy, so Bob Pancakes is going to gain a few pounds snarfing these grilled cheese. But that is what treadmills are for, right? Side note I think I'll have grilled cheese for dinner tonight.
Those simple, eating lots of grilled cheese is the 'hardest' part about the first stage. It is very simple to go up to three Sims and 'Talk About Grilled Cheese', which can be found under friendly interactions. You can even do it while you eat grilled cheese!
When it comes to consuming the sandwiches, know that you can certainly make group portions to save time and a little money. A group portion and two single-servings will do. You could refrigerate them and eat them for every meal; there's no need to eat grilled cheese back to back for this portion. Yeah, you could just play normal and wait until they've had 10 meals, but who has time for that? Just hop on a treadmill or something.
Milestone 2: Cheddar Connoisseur
Eat 10 Excellent Quality Grilled Cheese Sandwiches (350 Satisfaction Points)
Cook 3 Group Servings of Grilled Cheese Sandwiches(300 Satisfaction Points)
Talk to 5 Different Sims About Grilled Cheese (250 Satisfaction Points)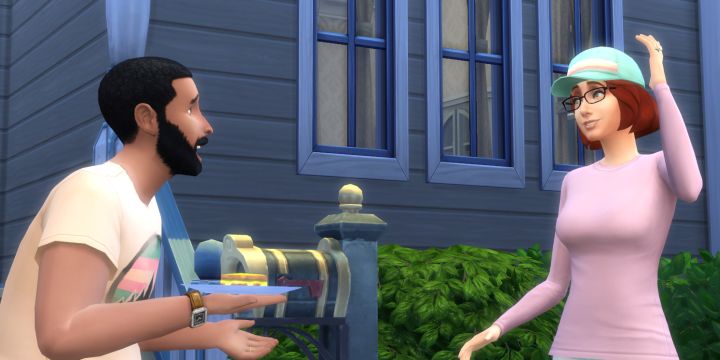 She's not annoyed at him talking about grilled cheese yet, but she's going to be!
The second milestone ramps the difficulty up a tad, but not much. Because you need to cook three group portions, you may end up with 8 excellent-quality sandwiches just by pure luck. However you may need to boost your odds a bit. Get your Sim Inspired and, with level 4-5 cooking they will have no trouble completing this objective. Note that you could have another Sim cook the excellent-quality grilled cheese, the objective is to eat them after all... but you need to be able to cook one for the final milestone.
Milestone 3: Muenster Maniac
Eat a Grilled Cheese Sandwich in Space (750 Satisfaction Points)
Cook an Excellent Quality Grilled Cheese Sandwich (500 Satisfaction Points)
Talk to the Grim Reaper About Grilled Cheese (650 Satisfaction Points)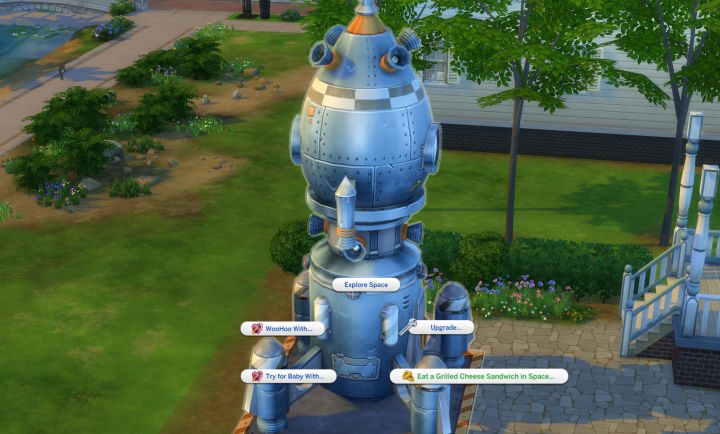 Click the rocket with a grilled cheese available and blast of to Zero-Gooeyness
Now for the final objectives. It should be easy to cook up one excellent grilled cheese, with or without the above tips. Eating a grilled cheese in space means building a rocket, which costs $1,000 and takes a number of hours to assemble. You'll gain a few levels in the Rocket Science skill in the process. In order to eat the grilled cheese in space, cook one up on the stove then click the plate and 'Put in Inventory' or drag it onto your Sim. Now when you click the rocket, you'll get the option to eat it in space. To finish the aspiration, you've got to talk to the Grim Reaper about grilled cheese.

10 Million Views! My YouTube channel has grown a lot the last 6 months. I now have over 125 videos on Youtube and am nearing 100k subscribers. I'd like to invite people to check out my content and, if you like what I'm doing, subscribe!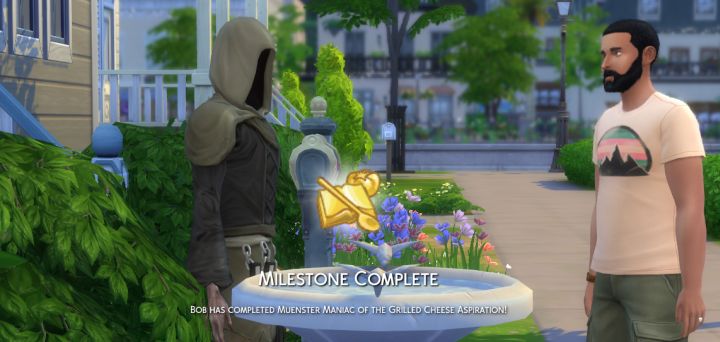 Talking to the Grim Reaper about Grilled Cheese
Talking to the Grim Reaper about Grilled Cheese is perhaps the hardest part of this entire Aspiration, though you can kind of cheat by killing a Sim or downloading Grim from the Gallery. Grim will occasionally be seen around town once you've met him before, through another Sim's misfortune. He will show up at clubs late-night for a drink if he has already spawned in your game. However you may have to wait unless you'd like to establish some way to kill a Sim in order to have a chat with him about grilled cheese... which is pure evil.
Ideas for killing a Sim to meet the Grim Reaper include keeping a hungry cow plant around and throwing a party, locking a Sim inside four walls with no door until they starve, trying to trigger hysteria in a Sim through many funny interactions (harder than you'd think). Having an Elders-only swimming meetup came to mind, or just a party with at least a few elder guests (meet them at the park and other places).
Your options depend upon the DLC you have. If you have Get Together you could make a club where the main activity is swimming and hope for an accident. You can, of course, let things simply run their course. Accidents can happen, but are more likely in pools or Spa Day's saunas and with elders around. In particular you're more likely to meet Grim when you're visiting public lots, and you can leave aging on while using other options to keep your Sim immortal. It is worth noting the ability to swap out aspirations. You can completely forget about this for a while until someone dies, then switch to it and finish off the aspiration. This will work whether your Sim is around or not, as once Grim spawns he should come around town every now and then. Befriending, and hanging out with elders is perhaps the least-objectionable and cheat-y way to do it.
Players also report that you can download Grim from the Gallery. Just head to the search box, put in grim, and pick just about any of them. Add him to your current household, talk to him about grilled cheese, and voila. You can then move him out using a phone or manage worlds from the menu.
Melt Master Reward: Instant Grilled Cheese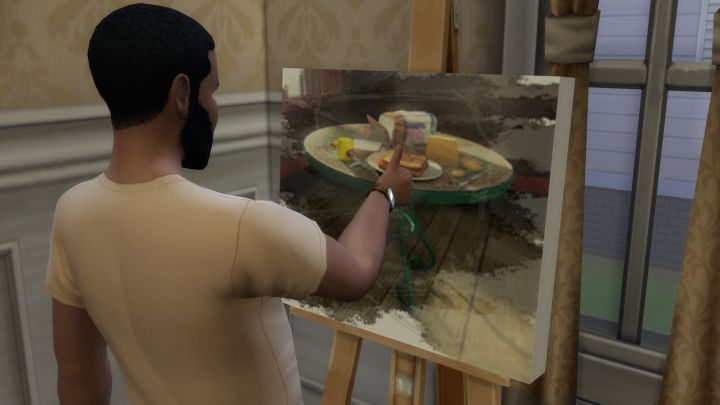 Melt Master lets you summon grilled cheese and paint it, as well!
Your reward for completing this is the Melt Master reward trait, which allows you to click your Sim and 'Summon Grilled Cheese'. The ones I got were normal quality, unfortunately. It does not however make this anywhere near useless, as out in the woods of Outdoor Retreat or fishing in Forgotten Grotto, you can grab a quick meal and take care of one of your needs.
Additionally, Sims may select Paint Grilled Cheese at the easel. There are various levels of painting, from a childish grilled cheese humanoid thing to classy grilled cheese on a table as pictured above. I'll leave discovering all the paintings up to you!
How You Can Support The Site and Channel

If you like my sites and
Youtube Channel
, consider supporting me on
Patreon
to help me to continue. If you'd like to support my guides in another way you can use our
Amazon link
for your next purchase (if in the US). We also offer a
paypal donate link
so you can contribute directly.
Back to The Top
Check Out My Youtube Channel!
We now have a Youtube Channel with over 50 guides in video format to go along with the huge site I've already created. Check it out and consider subscribing if you like my style.
Comments (3)
Topic:
http://carls-sims-4-guide.com/aspirations/grilledcheese.php
New
Kelvin
Hi, great hidden aspiration.I tested using 1 group serving of grilled cheese, it works!
just eat it in succession and you will unlock this.Great website!
Regular
Joria
I had my chef invite her club over. She made multiple dishes for groups and had Eat as one of the club activities. She ate all the ones she needed and then had enough folks around for the chatting bit, ate ten more and voila. Clubs made it a bit faster and easier.
Senior
Brian
No, strike that, she got the unlock by eating grilled cheese 3 times in a row-- or would have, if she was at least a teen.
Admin
Playlot
lol be interesting to know if when your toddler ages up to a teen if the aspiration will be unlocked for her.
Senior
Brian
I know, wondering that myself!
Are you sure you want to report it?
Share a link to this comment
New Patch & Eco Lifestyle Guides
Sims 4 Aspirations & Reward Traits
Support Us

Readers who use adblock or those who'd like to thank me for my efforts can now pledge $1/$5 monthly via Patreon. This helps a lot with server costs and provides some stability for my business.
Super Sim Checklist + Other News
Let's Play Playlist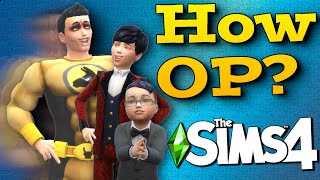 New I now have a guide to Making Super Sims in The Sims 4. Look for a text version within the next 72h. It won't have THAT much more info but it will help out as a checklist.
This was inspired by a series, "Let's Play a Super Sim" in which I start at toddler and gradually take on the major bonuses. Here's a link to each part for people who are interested. You can also see the Let's Play as a Playlist on Youtube.
Discover University Expansion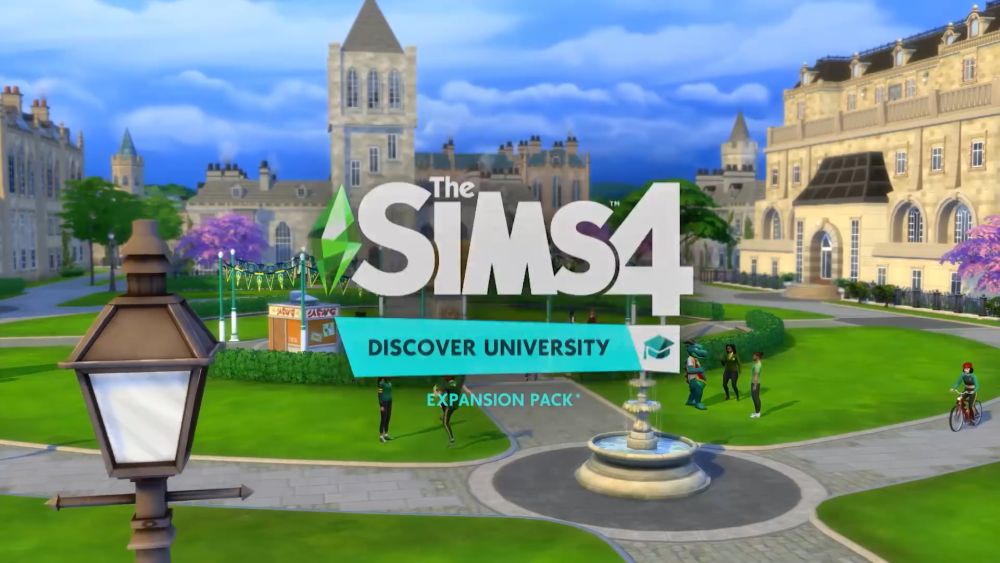 The Sims 4 Discover University has been announced for November 15 for PC/Mac and December 17 for Xbox and Playstation 4 consoles. Click to learn more about the pack, see my summary of the livestream or read our FAQs below.
Other Guides to Discover University:
New Lot Traits: Study Spot and University Student Hang Out
New: Discover University FAQ: Gameplay Features
New Video The Sims 4 Discover University Gameplay Tips Video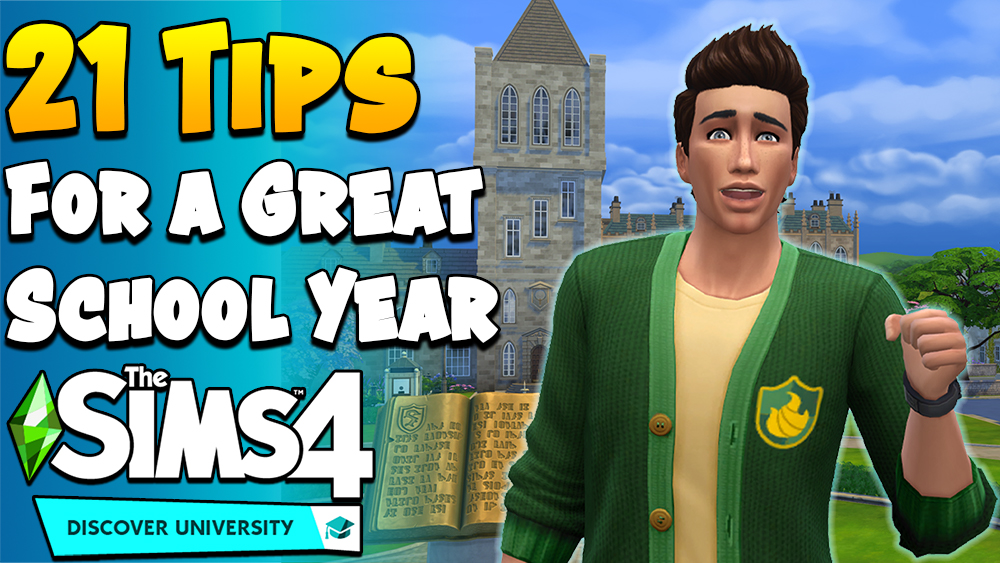 More videos coming soon!
Realm of Magic