The Sims 4 Renaissance Sim Aspiration
Milestones and The Professorial Reward Trait
by Tom "Metro" Schlueter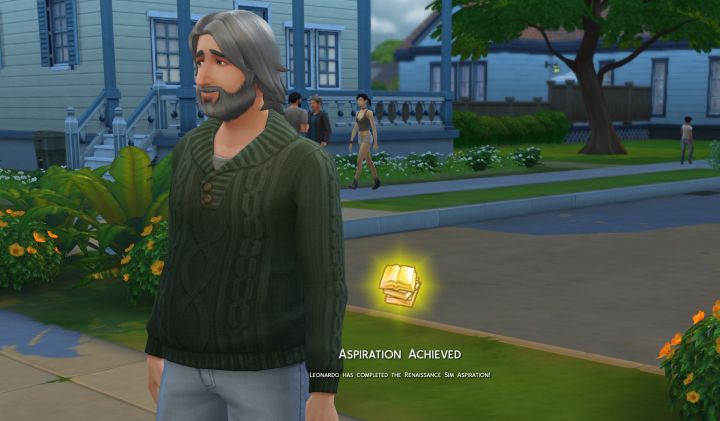 Getting 6 different skills to level 8 is not a quick endeavor, but having the Connections reward for the careers component will save you a ton of time.
Overview and Set Up
The Renaissance Sim Aspiration is a fun one: very straightforward and basically has you leveling up multiple skills as well as advancing in several jobs. Most skills in the game are boosted from either being Focused or Inspired, so to make things easy on yourself, I'd recommend one of those clusters of skills as well as three complimentary careers that call for a matching ideal Mood. Despite the fact that the first stage of the Renaissance Sim Aspiration has you level up Logic to level 4 (a Focus based skill), I opted for Inspired skills and gave my Leonardo da Vinci Sim the Creative, Perfectionist, and Music Lover traits.
Of all the Aspirations I have done to date, I cannot think of one particular reward being more tied to an Aspiration than the Connections reward and the Renaissance Sim Aspiration. It's not cheap at 3k Satisfaction, so don't even worry about getting a job at first. Just skill up your 6 different skills necessary for the Aspiration and grind out Satisfaction by going on a Whim frenzy as well as Aspiration hopping to buy the Connections reward. Once you have the 6 skills at level 8 and have the Connections reward, the last 3 stages involving careers will be completed in minutes - you'll never even need to leave your home to go to work as you'll complete these stages instantly.
Stage I - Prudent Student

Finish Reading 3 Books (75 Satisfaction)
Achieve Level 3 Logic Skill (75 Satisfaction)
As I mentioned above, I went with Inspired-based skills for the bulk of my work: Painting, Cooking, Writing, Gourmet Cooking, and Guitar, and then I purchased a chess table and worked on Logic as well since it's the first stage component. I did a lot of Aspiration "hopping" initially to build Satifaction before finally locking into Renaissance Sim and purchase the Connections reward. I was able to accumulate 3200 Satisfaction by Friday of the first week to buy the reward, but I still had another week of work ahead of me to get all 6 skills to level 8.
Stage II - Jack of Some Trades

Become an Adult
Achieve Level 4 in 4 Skills (300 Satisfaction)
Reach Level 3 in 1 Career (300 Satisfaction)
Stage III - Pantologist

Achieve Level 5 in 5 Skills (750 Satisfaction)
Reach Level 3 in 2 Careers (500 Satisfaction)
Stage IV - Renaissance Sim

Achieve Level 8 in 6 Skills (1500 Satisfaction)
Reach Level 3 in 3 Careers (1500 Satisfaction)
There's not a lot to say with stages 2, 3, and 4. It all comes down to getting to level 8 in 6 different skills and getting enough Satisfaction to buy the Connections reward. Once those two things are in place you then have the green light to make your first phone call to find a job. Accept the job and you'll instantly finish Stage II since Sims with Connections start careers at level 4. Pick up the phone again and call to start another career (and quitting your existing one in the process). Boom. You'll be 1/2 for Stage III. Make another call for a different career and Stage III is now complete. 3 more calls for Stage IV and that's all it takes. Easy peasy.

Our Latest: Let's Play a Beach Bum New CAS Story Mode and New Build Cheats Guide New New Patch: Cas Story Mode, New Cheat for Build Objects, and Rebranding New The Sims 3's Skill Challenges Added Tons of Depth News: New CAS Mode Coming One of the Rarest Abilities: Snaggle Fluster Fishing Guide Updated Fishing Update Guide (Video) Island Living Review (Video) Island Living Gameplay Review Mermaids Island Living Cheats Features to Know About in The Sims 4 Island Living Features in Island Living (Video Format) Conservationist Guide Cleaning up Sulani Patch Notes: June 2019 (New Features)
Professorial Reward Trait
After your Sim completes the Renaissance Sim Aspiration they will have a new writing interaction available on a computer - Write Skill Book. If they have enough levels in a given skill, then they can write a skill book for other Sims to read. As far as I could tell the skill gain rate is no better than reading a standard skill book. I suppose the advantage here is if you have a house full of Sims with one "super" Sim who has many skills, then the super Sim could write books for everyone else. Of course, skilling up by doing (i.e. using an oven to cook) is always going to outperform simply reading a book. What may have been a more interesting reward is to have the skill book add a 4 hour related buff to the reader - a Sim finishing a Painting book receives a +2 Inspired moodlet, etc.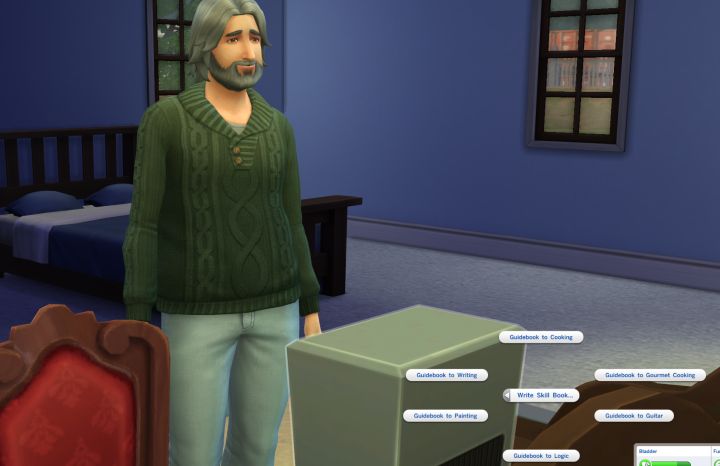 After my Sim completed his Aspiration he then had the option of writing skill books
on the computer.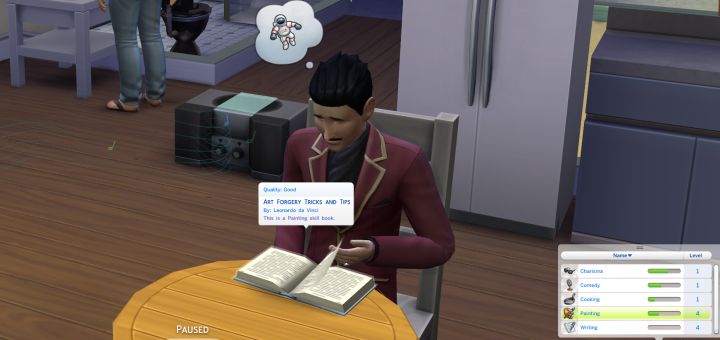 I added Mortimer Goth to my household to see what kind of skill gain he received from reading a painting skill book - after a few times through the book he was at skill level 4.
I cannot overstate the importance of the Connections reward for this Aspiration. Of course, you can stretch this Aspiration out if you want and not purchase the reward. Then, you'd be starting at level 1 for each job after quitting your last one. But, with the mountain of work that you need to put in to get 6 skills to level 8 why not treat yourself at the end and save some time?
How You Can Support The Site and Channel

If you like my sites and
Youtube Channel
, consider supporting me on
Patreon
to help me to continue. If you'd like to support my guides in another way you can use our
Amazon link
for your next purchase (if in the US). We also offer a
paypal donate link
so you can contribute directly.
Back to The Top
Quick Links
Check Out My Youtube Channel!
We now have a Youtube Channel with over 50 guides in video format to go along with the huge site I've already created. Check it out and consider subscribing if you like my style.
Share Tips and FAQs
(3)
Our Sims 4 Community is the place to go for faster answers to questions and discussions about the game. Use the form below to share your own experiences and provide helpful tips to other readers. We are not affiliated with EA and cannot make changes to the game, nor fix bugs.
Support The Site via Amazon
Malcolm
For the Professorial trait, is there any restriction/effect if my sim had a lv 8 Cooking, then another sim is reading my book when his Cooking skill is still 1? Is the reading sim have to level up his Cooking skill to 8 to read and gain skill?
Thank you

6th March 2016 9:46am
Playalot
No any sim can read the book and then continue to reread it until the skill gain stops.
6th March 2016 6:19pm
Gutbukket
The Connections Trait is broken and has been for some time. Buying it seems to lock you out of the career rewards for each career you join. My game developed (caught? hit?) this bug recently and has made the trait a waste of time and points for me. If I'm going to have a sim join a career I expect him/her to gain the rewards of advancing, so connections is one I always avoid now.
5th January 2017 4:52am
Join in: